You can have close contact with the natural Nagara River environment and enjoy various river-related sporting and recreational activities. As the first urban park that implements therapeutic recreation, we aim to create a facility where people with disabilities can proactively take on the challenge of engaging in sports and recreation as able-bodied people.
Admission
Free (not applicable for participation fees for events)
Hours
December, January, February 9:30-16:30
March, Aplil, May, June, Sepember, October, November 9:30-17:00
July, August 9:30-18:00
Closed
Every 2nd Monday (the following day if the 2nd Monday falls on a public holiday)
December 31, January 1
∗In August, it's opened on 2nd monday, and closed on 4th Monday.
Parking
Free (50 spaces)
Three accessible parking spaces
Date of first opening
October 1, 2000
Address
1202-2 Fukue Aza Kakuyama, Kaizu-cho, Kaizu-shi,
Gifu Prefecture 503-0628
Contact
Nagara River Service Center
Tel:0584-54-2075 / Fax:0584-54-5275



Canoe Experience Corner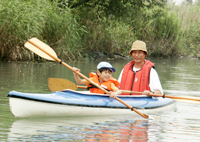 Period
Sat/Sun/holidays between April and October
Hours
10:00-16:00 (Reception is until 15:30)
Location
Canoe Experience Corner, Nagara River Service Center
Due to the other events, there are cases this corner is closed for a day. For details, please see the monthly event calendar.
Also, there may be cancellations due to weather and river conditions.
Fee
500 yen per ride/person (1 hour)
How to participate
May apply at any time at the boarding area.
Advance bookings are not accepted. For group bookings, please contact the service center.
Age restrictions
4th grade elementary school students or older.
Junior high school students or younger must be accompanied by parents. Children who are 3rd grade elementary school student or younger can ride only when they ride with parents.
Clothing, equipment
Please wear clothing that is easy to move and is ok to get wet.
Please bring hats and drinks for shade and sunstroke prevention.
(Please note that your shoes may get wet. Life jackets are provided at the boarding area.)




Rowing Practice Zone
Even beginners can practice a relatively-easy "knuckle four."

Canoe Zone
A canoe experience corner will be held every weekend and holidays between April and October.

Grass Park
You can enjoy light sport such as ground golf and RD challenge.
Use is limited to a maximum of 2 hours
*until 17:00 (until 16:30, in winter)