Sakuradutumi Sub Center
Let's learn the nature and history around "Sewari-tei" through the playing!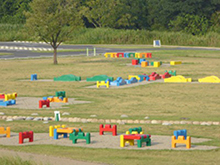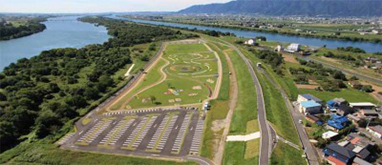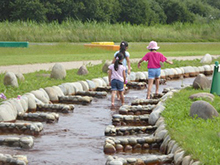 This park has various spots such as, "multi-purpose grass park" for playing sports and holding events, "Children's park" and "Picnic park", where children can enjoy colorful playground equipment, "Historical exhibition park" for your experience of historical structure of flood control, "Flower park", which has the river's inlet patterned flower garden and expresses the stream made by Kereppu water system, let you feel rich water environment.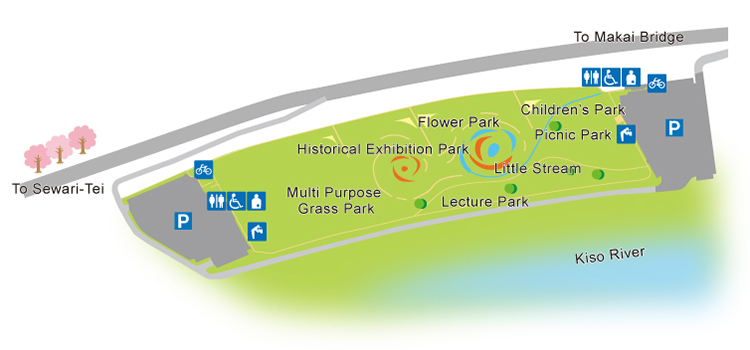 Admission
Free
Hours

April, May, June 9:30~17:00
July, August 9:00~18:00
September, October, November 9:30~17:00
December, January, February 9:30~16:30
March 9:30~17:00

Closed
Every 2nd Monday of the month(the following weekday if the 2nd Monday falls on a public holiday),
December 31, January 1
Parking
Free (450spaces)
Date of first open
March 21, 2015
Address
Kuwabara-cho,Hashima-shi,Gifu
Contact
Wild Nature Plaza
Tel : 0587-97-8722 / Fax : 0587-97-8723
Guide to Play ground sand Park
Playing in the little stream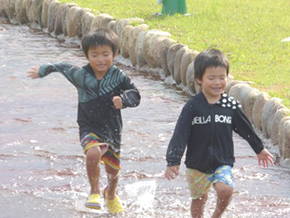 The water in this little stream (about 200m) is come from groundwater and water temperature of 17℃ even if summer season. As also you can set something to shade, here is suitable for playground in summer season.
※Undrinkable due to well water.
※Please watch your step because sometimes it is easy to slip due to occurring of algae.
※Winter season (from mid-November to late-March) is out of service.
---
Event
Sewari-tei Sakura Festival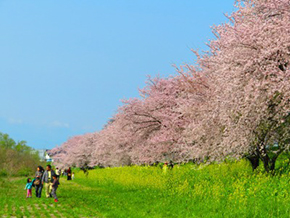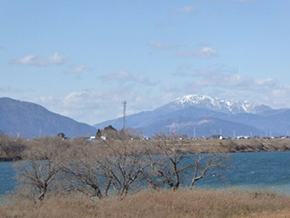 You can enjoy the row of cherry trees, which extends 2km and the view of Kiso River and Nagara River.